Skip to Content
Commercial Fire Damage Restoration
Commercial Fire Restoration Services in Raleigh, NC
ARCO Restoration Can Help Following Commercial Fire Damage
ARCO Restoration provides comprehensive commercial fire restoration services for businesses in and around Raleigh, NC. Our locally-owned and -operated company has spent nearly 25 years delivering exceptional customer service and thorough restoration efforts to business owners in Wake, Johnston, and Orange Counties. We are nationally recognized as a certified firm by the Institute of Inspection, Cleaning and Restoration Certification (IICRC) and carry an A+ rating with the Eastern North Carolina Better Business Bureau. Our team comprises estimators, project managers, and field technicians that boast years of restoration and reconstruction experience, so you can rest assured that your project will be completed carefully and efficiently. In the unfortunate event that your business experiences a fire disaster, call us right away. We will quickly respond to help you restore normalcy in short order.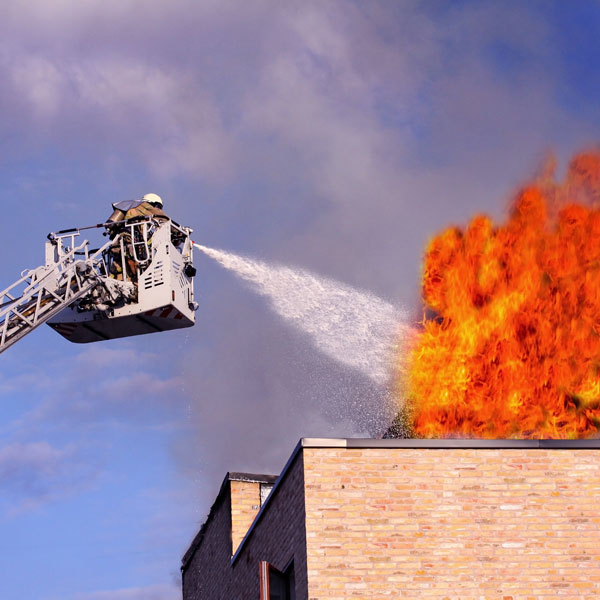 Common Causes of Commercial Fire Damage
Although ARCO Restoration can expertly restore your business following a fire, the best way to safeguard your facility is avoiding the disaster altogether. To do so, it is important to understand the common causes of commercial fires, which include:
Faulty electrical wiring or equipment
Cooking accidents
Malfunctioning heating equipment, furnaces, boilers, and radiators
Improperly disposed cigars, cigarettes, or other smoking materials
Regularly check and inspect any potential fire hazards in your building to help prevent fires. However, if disaster strikes, rely on the experts at ARCO Restoration for comprehensive commercial fire restoration services in Raleigh, NC and surrounding communities.
Consequences of Fire Damage in Commercial Facilities
The most apparent consequence of a commercial fire is the damage it causes to the building. Property is destroyed, information may be lost, and an uninviting smell is left behind. Furthermore, there may be additional damage as a result of water or other extinguishing methods. But the less obvious issue following a fire is the loss of production. If your facility is out of commission for an extended period, operations will slow and you may lose revenue. ARCO Restoration understands the urgency associated with a commercial restoration project, so we will act quickly. The last thing you need following a devastating fire is prolonged downtime.
Our Comprehensive Commercial Fire Restoration Efforts
The team at ARCO Restoration is proud to assist you throughout your fire restoration process in Raleigh, NC, helping return your commercial building to its original condition. Armed with decades' worth of experience in the industry, we understand all of the building codes that must be met following such a tragedy and can ensure nothing is overlooked. We strive to exceed your expectations and promptly relieve your stress. During our commercial fire restoration process, we will:
Assess the Damage
The initial phase of the fire restoration process is a damage assessment. Our team will evaluate your entire facility to gain an understanding of the full scope of your fire damage. This includes noticeable problems but also comprises smoke and water damage as well as an appraisal of the soot's effects throughout the facility.
Create a Personalized Plan of Action
Prior to beginning any restorative efforts, we will provide you with a free estimate of the costs associated with your project as well as a timeline for its completion. As part of an action plan, we can incorporate any upgrades or renovations you would like to include to improve your space.
Seal All Affected Areas
Before beginning remediation, our team will use tarps to seal any unaffected areas. This will help contain the damages and prevent additional problems as a result of soot or dust transfer. It also allows us to concentrate our focus on where it needs to be.
Clean Contents
Smoke, soot, and dust will permeate your building following a fire, so our remediation process includes a thorough cleaning to remove all of a fire's remnants. This cleaning process also involves water damage cleanup to remove excess water following extinguishing.
Remove Smoke Odors
One of the longest-lasting and least appealing elements of a fire is its smoke. The odor will persist long after the fire has been extinguished. But ARCO Restoration employs skilled smoke odor removal techniques to ensure that the smell does not linger.
Repair and Renovate
Once the foundation of your commercial building has been cleaned and the odors have been removed, we will repair and renovate your counters, cabinets, flooring, and walls. This step will help make your office like new again so that you can return to regular operations.
Contact ARCO Restoration for Fire Restoration Services Today
When your commercial business in Raleigh, NC suffers extensive fire damage, do not hesitate to call the professionals at ARCO Restoration for comprehensive fire restoration services right away. We will quickly assess your situation and customize a plan to restore normalcy before the tragedy starts to impact your bottom line. We are available around the clock to respond to emergencies because immediate action results in quick restoration. We can even help you with any insurance claims and ensure you get a fair deal. Contact us today to learn more.
Your Solution for the Unexpected