Skip to Content
Commercial Vandalism Restoration in Raleigh, NC
ARCO Restoration Restores Businesses Following Vandalism
If your business falls victim to vandals and graffiti artists, enlist the help of ARCO Restoration in Raleigh, NC. We provide commercial vandalism restoration services for business owners throughout the City of Oaks as well as those elsewhere in Wake County, Johnston County, and Orange County. Our team has been a Raleigh staple since we opened in 1995, providing a host of restoration services to customers in the Triangle. We take pride in exceptional customer service, unrivaled craftsmanship, and quick action to complete projects important to you and your business. We recognize the damaging effects – both real and perceived – that vandalism can have. Therefore, we endeavor to restore normalcy for your company promptly and efficiently. You do not have to wait for vandalism removal if you call our friendly team. We will respond quickly so that you can return to regular business efforts. Additionally, ARCO Restoration is nationally recognized by the Institute of Inspection, Cleaning and Restoration Certification (IICRC) as a certified firm, so you can rest assured we will get the job done correctly. Call us at any time for commercial vandalism restoration services in the Raleigh area.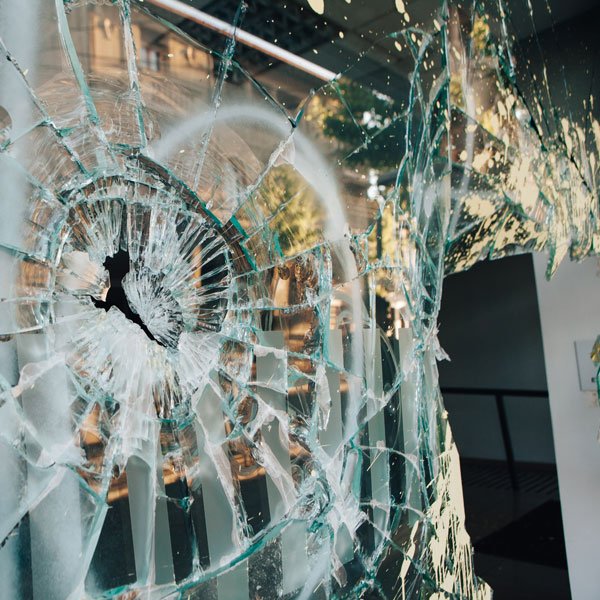 Understanding the Impact of Vandalism on Your Business
Customers and passersby often judge businesses by their appearance, so it is essential to display a welcoming front at all times. Unfortunately, following incidents of vandalism, your company may not be warm or appealing. Acts of vandalism take many forms, including graffiti, arson, water damage, and more. ARCO Restoration is qualified to handle each such scenario quickly and effectively to minimize any negative publicity. In addition to making your business uninviting or, in severe circumstances, uninhabitable, vandalism can be emotionally jarring and elicit damaging reactions from potential clients. They may begin to associate your company with criminal activity and start to look elsewhere to find the services you provide. Do not let this happen. Reach out to ARCO Restoration for immediate commercial vandalism restoration services. The longer you wait to act, the harder it may be to repair your facility and your image.
Importance of Quick Action to Address Vandalism
The goal of ARCO Restoration's commercial vandalism restoration services is to return your Raleigh-area business or office building to its pre-vandalism condition. Whether that means paint and graffiti removal, repairs to structural damage or windows, or clean-up of hazardous debris, our professional team can complete the job. But it is important to call us as soon as you notice the issue. We are available 24/7 throughout the year to ensure a quick response when you call. Graffiti's prompt removal is beneficial for multiple reasons. Notably, the longer graffiti sits, the more challenging it is to remove or clean. But potentially more importantly, graffiti often encourages other forms of vandalism. Copycat vandals may add to your mess or invite further crime in the area. The implications of such behavior could result in a loss of customers who no longer feel safe, a decline in employee productivity, and a poor public image for your business. Enlisting our services can help prevent further damages and expenses while also maintaining your positive reputation. In the case of other forms of vandalism, quick action is necessary to ensure the safety of your employees and clients as well as the integrity of your building.
Our Commercial Vandalism Restoration Services in Raleigh
Our comprehensive vandalism services encompass repairs to your commercial facility's exterior and interior. If your business is the victim of graffiti or other forms of exterior vandalism, we will power wash your building, clean your windows, and completely remove any evidence of the crime. These efforts will help you maintain regular operations, deter vandals from returning, and reduce security threats. If the vandalism you experience includes property damage, we can address that, too. Among our specialties are commercial fire restoration and commercial water restoration. Our professionals have decades' worth of experience in the restoration and reconstruction industry, so you can rest assured that we will return your facility to its original state and afford you peace of mind that things will run smoothly again.
Call ARCO Restoration for Commercial Vandalism Restoration
If vandals target your business in Raleigh, NC or the surrounding area, take quick action to restore normalcy at your commercial property. Responding promptly by removing any evidence of vandalism will reduce security threats, help you keep a positive public image, and allow you to maintain normal operations. ARCO Restoration is available at all times to assist with graffiti removal, fire restoration, reconstruction, and a host of other services. Do not hesitate to give us a call. If you wait, you may fall victim to additional acts of vandalism or make it more challenging to clean your building. Contact us today to learn more or schedule a visit from our professionals.
Your Solution for the Unexpected