Skip to Content
Arco Restoration Provides Water-Damaged Ceiling Services
Water Damage Cleanup, Leaking Roof Repair & Restoration
Water leaks from the ceiling can be a major nuisance and cause extensive damage if not repaired quickly. Arco Restoration is a full-service restoration company that specializes in water damage ceiling repair and cleanup. We have years of experience and a proven track record of success. We have experienced technicians who can quickly assess the damage and make the necessary repairs. Contact us today for more information!
How to Fix a Water-Damaged Ceiling
A water-damaged ceiling is one of the most frustrating things that can happen in your home. Not only is it unsightly, but it can also be dangerous if not fixed properly. If you're dealing with a water-damaged ceiling, here's what you need to know about how to fix it.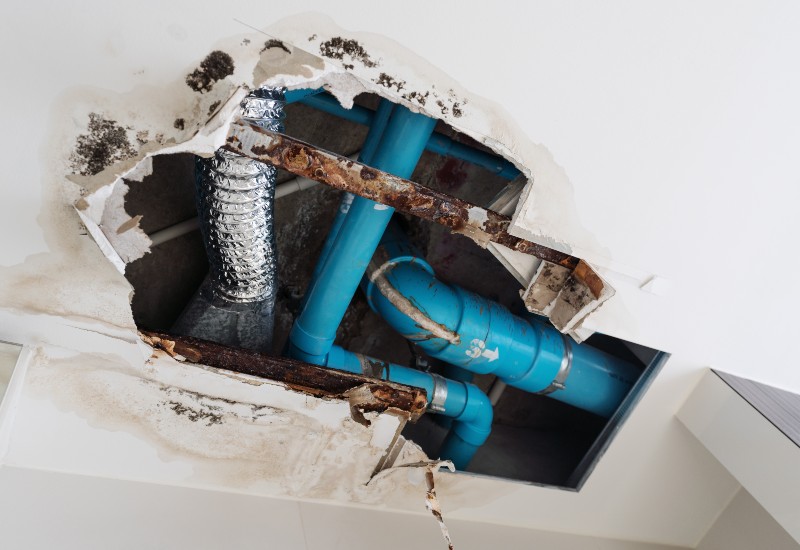 The first thing you need to do is determine the source of the water leak. The water may be coming from a pipe or other water source, a hole in the roof, or another external source. Once you've determined the source of the water, you'll need to assess the damage. If the water has pooled on the floor, you can remove it by using a wet/dry vacuum or a mop and bucket.
If the water has soaked into the ceiling, you'll need to take some time to dry it out. This can be done by opening windows and using fans to circulate the air. You should also consider renting a dehumidifier to help speed up the process. Once the ceiling is dry, you'll need to repair any damage that was caused by the water. If there are any holes or cracks, you'll need to patch them up.
Repairing a water-damaged ceiling can be a challenge, but it's important to take care of the problem as soon as possible. By hiring a restoration company like Arco Restoration, you can fix the damage and prevent any further issues.
The Signs of Ceiling Water Damage
There are a few signs that you can look for if you think your ceiling may be water damaged. These include:
Water stains or discoloration on the ceiling
Peeling or flaking paint
Cracks in the ceiling
Sagging or drooping ceiling
Musty odor coming from the ceiling
Consult a Ceiling Leak Repair Expert
If you think you may have a ceiling leak, it's important to consult with a ceiling leak repair expert like Arco Restoration. We can assess the damage and determine the best course of action to take. Ceiling water damage can be tricky and dangerous, so it's always best to leave it to the professionals.
We Offer Years of Expertise
Arco Restoration is nationally recognized by the Institute of Inspection, Cleaning, and Restoration (IICRC) as a Certified Firm; this recognition is reserved for firms within the industry that have met only the highest of standards. We provide water-damaged ceiling service that is unrivaled by any other company in the area.
Arco Restoration also provides a wide variety of other services such as trauma & crime scene cleanup, commercial vandalism restoration, and commercial mold remediation. We have years of experience and a proven track record of success.
Contact Us for Ceiling Water Damage Repair
Arco Restoration is the leading provider of water-damaged ceiling services in Raleigh. We have been in business for more than 15 years and our experienced professionals are experts in repairing water-damaged ceilings. If you have water leaking from the ceiling, contact Arco Restoration today!
Your Solution for the Unexpected