Skip to Content
Storm Damage Repair in Raleigh, NC
The Storm Damage Cleanup Experts at ARCO Restoration Can Help!
Trying to figure out the first step after disaster strikes can be stressful and overwhelming for a home or business owner. ARCO Restoration has been restoring homes and businesses near Raleigh, NC in a timely and caring manner for more than 20 years. Locally owned and operated, ARCO is capable and prepared to complete projects ranging from small residential claims to large commercial losses, including storm damage restoration, water damage, and fire damage. Whether your home has suffered damage from severe flooding or a fire, ARCO's highly trained staff can help you get things put back together.
By calling us as soon as possible after a disaster, you have the best chance of preventing further damage to your property and restoring your investment free of damage, bad odors, or mold. For your property's welfare and the value of your investment, we conveniently offer the following services:
We Can Help You Get Your Life Back to Normal After a Storm
If you've recently experienced storm damage on your residential or commercial property, the team of professionals at ARCO can help restore things to look even better than they did before. While we can't replace the belongings you may have lost in the damage, we can at least bring you peace of mind knowing we will do everything we can to get you back to your normal living situation as quickly as possible.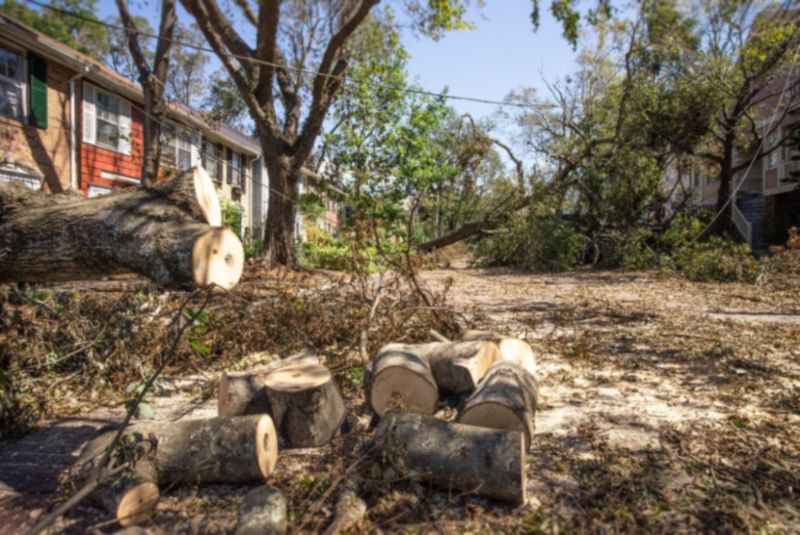 When it comes to storm damage, we've seen and dealt with it all. Whether the damage was caused by a tornado, hurricane, or even just one of the thunderstorms we get here in Raleigh, it's important to act as soon as possible and call a team of professionals. This will not only prevent further damage from taking place, but if your home was damaged by water in any way, you need to get it repaired before any mold starts to grow. Once we have inspected the property, we will write an estimate for repairs and work with your insurance company to get an agreed-upon quote for the job. At ARCO Restoration, we can provide professional storm and wind damage repair services that include:
Tree damage repair
Roof tarping
Board-up services
Debris removal
Demolition
Roof and ceiling repair
Check Out Our Commercial Storm Damage Cleanup Services
If you're a business owner and need our commercial storm damage cleanup services, we are here to help 24 hours a day, seven days a week. When your property becomes damaged due to heavy wind and storms, you want a team of professionals that can get you and your employees back to work as quickly and safely as possible. We provide the highest quality of service to all our customers, from residential homes to commercial office spaces, and contribute our knowledge and skill to every job completed.
You can also check out our emergency weatherproofing services that can help protect your business from devastating weather systems. We provide the following weatherproofing services:
Board-up services
Roof cover-up
Temporary fencing
Temporary power
Winterization
Structural drying
Call ACRO Today for Superior Storm Restoration Services
When your home or business suffers from a devastating fire, flood, or another type of disaster, it's important to clean up and restore it as soon as possible to avoid further issues in the future. ARCO Restoration will promptly put together a customized restoration plan that involves cleanup, deodorization, reconstruction, and if needed, mold remediation. Whether you need storm damage restoration services or fire damage repair, we will act quickly and thoroughly to restore your home or commercial property. Contact us today for a free consultation or to learn more about our restoration services. We look forward to hearing from you!
Your Solution for the Unexpected